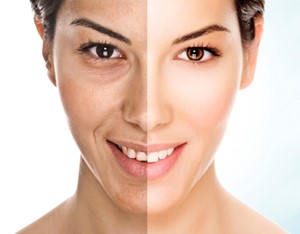 Today's topic was how one can delay skin ageing. Dr.Ahmed a dermatologist was the expert on the show.
What is the main factor for skin ageing asked RJ Jane? Doc says it is a natural process but the main cause is exposure to Sun. Sunscreen is important – 30SPF can be used and should be applied 20 min before going out. Vitamin D is important for us to have healthy skin and bones and stepping out in the early morning sun is the best, if not make we must make sure that we have supplements.
A young mother called in and asked what she should do for her young son. Doc said let little kids play in the sun – it is good, but always limit their time in the sun – 1.5 hours is a good time without sunscreen. The next caller said that exposure to the sun causes her skin to turn pink and she gets rashes too. Doc said she should get proper treatment. She should cleanse her skin properly every morning, use sunscreen and maybe use a retinol based cream at night, but only after consultation with a dermatologist.
How do we deal with sun and swimming asked a caller? Doc said use a stronger sunscreen- 40-50spf, a waterproof one. The night before include a half boiled carrot to your meal to boost the recovery.  A 40 year old gentleman called and asked what to do about the Melasma (pigmentation) he has on his upper cheeks. He was told to visit a dermatologist and maybe do periodic skin peels to improve the skin and of course ALWAYS use sunscreen!
Maintain a healthy diet to have good skin, avoid junk food, alcohol and smoking says our expert.
Use a moisturizer according to your skin type – if your skin is very dry you should use a prescribed ointment. Others should use fragrance free creams as those with fragrances can cause absorption of UV, which is not good.  Use minimum products on the skin, this is for women. You will look better without all of the excess products.
Are Botox and non surgical procedures ok to do asked RJ Jane and the Doc says that yes, it's ok but always get a good consultation before you go through with anything.
Cleanse, Tone and Moisturize is the best schedule for your skin and as always use Sunscreen!!